Notice: MFC Flight Chair / MPS Pilot Seats orders may currently be delayed up to 8 weeks. Please contact our customer support for more details on open orders.
Collective Mount VPC Rotor
VPC Rotor Collective mount for gaming and office chairs.
Design
Mount a VPC Rotor Collective directly to your gaming/office chair. Attachment with or without armrests as well as a flight setups with joystick and throttle is possible.
Seamlessly adjustable in height, depth and distance from chair.
The attachment on the chair is the same as with our Joystick/HOTAS Chair Mounts.
The Collective Mount can quickly be attached and detached with the Swivel and Quick Release Adapter.
Variants
Multiple setup variants are possible:
Chair without armrests:
Chair with armrests: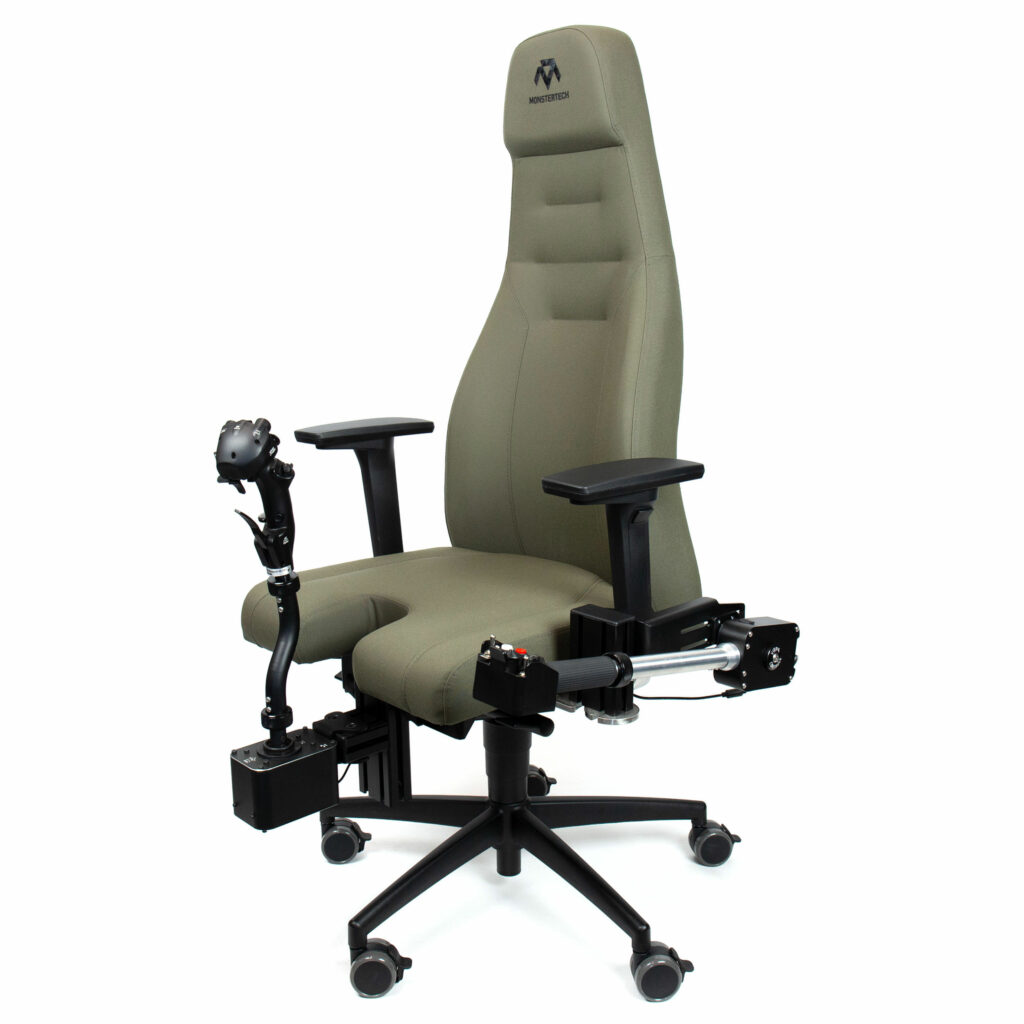 Chair with armrests and Joystick/Throttle Chair Mounts:
Also possible with the Collective Add-on VPC Rotor.

Scope of Delivery
1x Collective Mount for VPC Rotor Base
1x Chair Mount Attachment Plate Form*
1x 5cm und 1x 12cm 80×40 profile for setup variants
*depending on the order selection
For setup and adjustment, a hex key set with ball head is required. (Not included)
Chair, armrests, collective, joystick or throttle are not included in the shipment and serve on the product images only to illustrate the complete structure.
FORM MFC/MPS
Print FORM MFC/MPS
FORM 1
Print FORM 1
Maxnomic / NEEDforSEAT
Noblechairs
Secretlab
and many more...
FORM 2
Print FORM 2
Arozzi
AKRacing
Boulies
Clutch
Cougar
DXRacer
GTOmega Racing
Killabee (8XXX Series)
L33t (E-Sport/Elite)
Sharkoon (Straight Arm Rests)
ThunderX3 (Straight Arm Rests)
Ulti-Mat
Vertagear (Racing)
...please choose FORM 2 for the majority of other gaming chair brands.
FORM 3
Print FORM 3
IKEA Järvfjället
IKEA MATCHSPEL
Gamechanger
FORM 4
Print FORM 4
FORM 5
Print FORM 5
Autonomous ErgoChair 2
Autonomous ErgoChair Pro
FORM 6
Print FORM 6
NeueChair
Vertagear Trigger
FORM 7
Print FORM 7
Autonomous Ergochair Recline/Core
FAQ
Notice
Our design is constantly improving, so the finished product may differ from the version in the videos and on the images.