Owing to the exceptionally high demand during our Black Friday Sale, support response times and order deliveries may experience delays. For the latest information, kindly refer to our Discord channel #lead-times.
Joystick / HOTAS Chair Mount
Aluminum chair mount for joysticks and throttles.
Compatible with Brunner, CH Products, Logitech, Saitek, Thrustmaster, VKB, Virpil and Winwing systems.
Can be directly attached to the majority of gaming chairs.
For a HOTAS setup (joystick and throttle) two mounts are needed.
This item ships from our US warehouse in Tampa, FL. Combine with other products shipping from Florida for much reduced shipping rates.
$99.00 – $119.00
Concept
The best place for a joystick or throttle is sometimes right on the chair. The goal of the chair mounts is to transform your own office chair into a stable cockpit without major changes.
The profiles of the chair mounts are anchored directly to the receiving points of the armrests. The mount can be quickly attached and removed. Without the mounts, the chair can be fully used again as an office chair.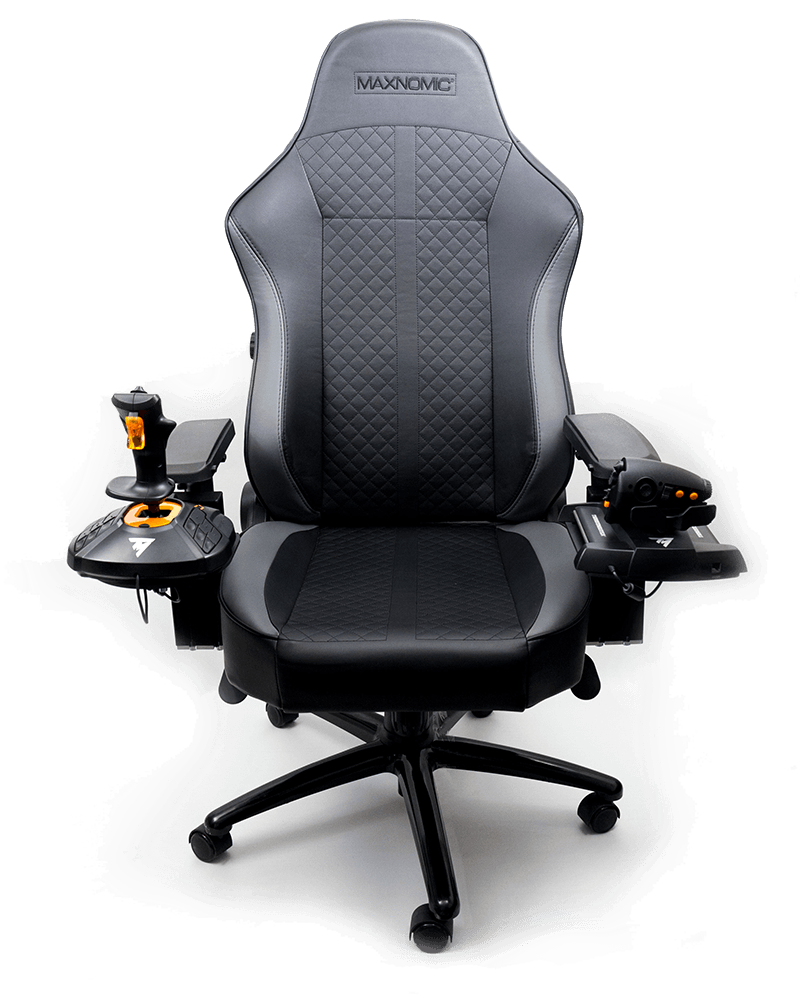 To make our mounts compatible with as many office chairs as possible, we provide a selection of universal mounting plates that can be selected when ordering.
Design
Chair
For chairs with armrests in an oblique position (for example, Noblechairs Icon Series), the armrests must be swapped from left to right.
If you'd like to help us make the chair mount compatible with as many different chairs as possible, visit our MONSTER FOUNDRY Discord.
Add-ons
We offer extensions to make the chair mounts more flexible:
Joystick/HOTAS
The mounting plates for joystick and throttle can be infinitely adjusted and fixed in height and distance. They are specially designed to meet the requirements of each system and can be reordered individually.
The following joystick and Throttle mounting plates are available when ordering:
Brunner CLS-E
Brunner CLS-P
CH Products Combat-/Fighterstick & Pro Throttle
Logitech G940
Logitech/Saitek X52/Pro
Logitech/Saitek X55/X56
Realsimulator FSSB 3
Saitek X65F
Thrustmaster Cougar
Thrustmaster T-Flight
Thrustmaster TCA Sidestick AIRBUS Edition
Thrustmaster TCA Quadrant AIRBUS Edition
Thrustmaster T16000M FCS
Thrustmaster TWCS
Thrustmaster Viper TQS
Thrustmaster Warthog
VKB Black Mamba
VKB Gladiator/NXT/Pro
VKB Gunfighter MK1/MK2/MK3
VPC MongoosT-50/CM/CM2 Joystick
VPC MongoosT-50/CM/CM2/CM3 Throttle
VPC WarBRD
Winwing Super Libra
Winwing Super Taurus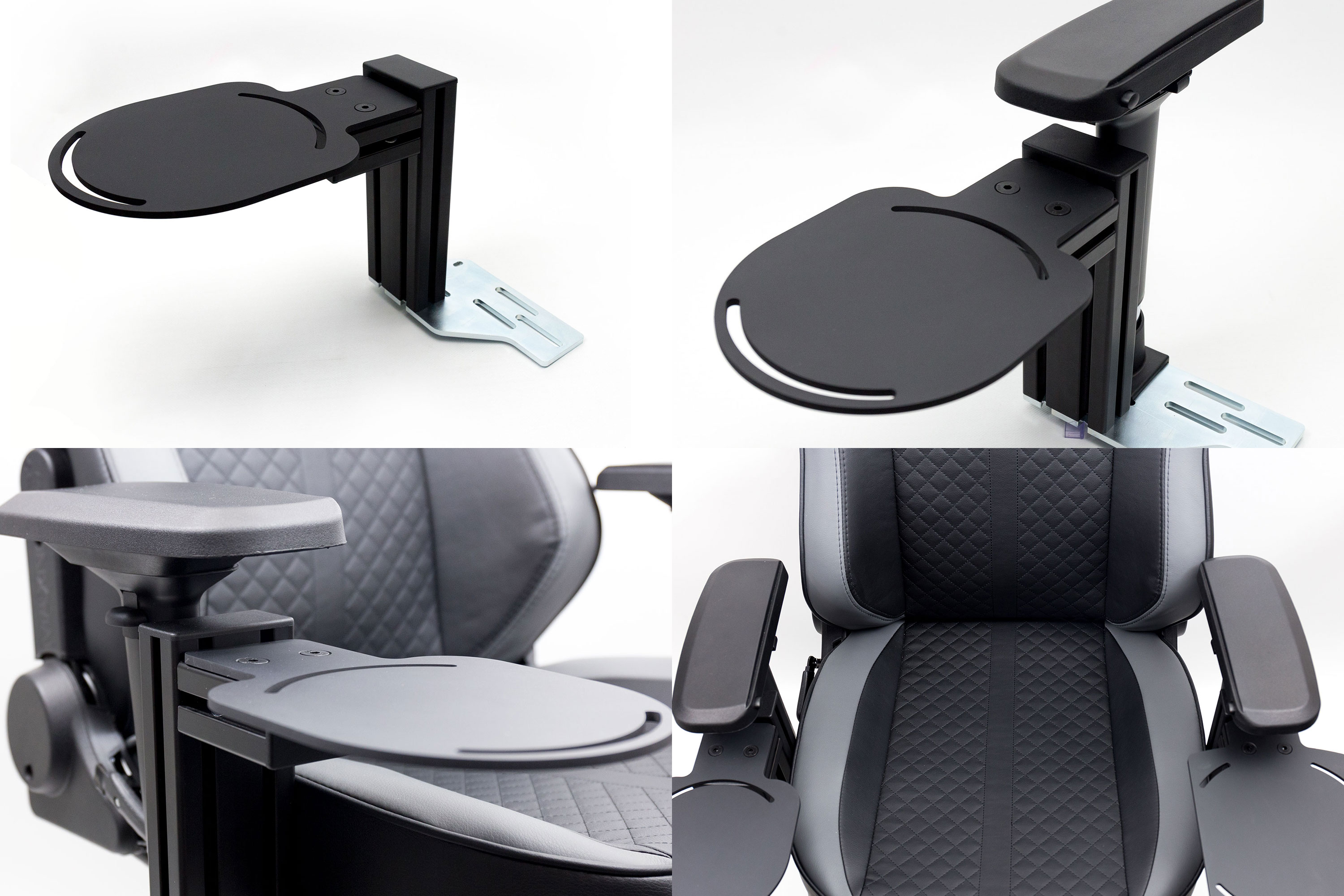 Shipment

1x chair mount with customized attachment plate*
1x aluminium mounting plate*
screws/nuts or velcro pads to attach the joystick or throttle*

*depending on the order selection

For setup and adjustment, a hex key set with ball head is required. (Not included)

Chair, armrests, joystick or throttle are not included in the shipment and serve on the product images only to illustrate the complete structure.
FORM MFC/MPS
Print FORM MFC/MPS
FORM 1
Print FORM 1
Maxnomic / NEEDforSEAT
Noblechairs
Secretlab
and many more...
FORM 2
Print FORM 2
Arozzi (straight armrests)
AK-Opal *
AKRacing
Boulies
Clutch
Cougar
DXRacer
Emerge Vartan
EWIN Knight series
GTOmega Racing
Killabee (8XXX Series)
L33t (E-Sport/Elite)
Razer Enki
Razer Iskur *
Sharkoon (Straight Armrests)
ThunderX3 (Straight Armrests)
Ulti-Mat
Vertagear (Racing)
Von Racer Big & Tall
...please choose FORM 2 for the majority of other gaming chair brands.
FORM 3
Print FORM 3
IKEA Järvfjället
IKEA MATCHSPEL
Gamechanger
FORM 4
Print FORM 4
FORM 5
Print FORM 5
Autonomous ErgoChair 2
Autonomous ErgoChair Pro
Nouhaus ErgoTask *
FORM 6
Print FORM 6
NeueChair
Vertagear Trigger
FORM 7
Print FORM 7
Autonomous Ergochair Recline/Core
INCOMPATIBLE
Eurotech Ergohuman
Haworth Fern / Zody / Very / Soij
Herman Miller Aeron
Herman Miller Embody
Steelcase Gesture / Leap V2 / Think
Respawn 110
Note (*): Some chairs are technically compatible, but require extra care during mounting for a proper fit. Examples include, but are not limited to; Limited threaded insert depth, Leg rests obstructing placement, and controls mounted close to the armrests.
Developed with the support of the Sim community
Many thanks to all who contributed ideas, tests and criticism to the realization of the project!
FAQ
Are two chair mounts required for a HOTAS setup?Yes, Joystick / Throttle or Dual Joystick systems require two mounts.
I changed my HOTAS/Joystick setup, what to do?The mounting plates are easily interchangeable and can be ordered separately.
Do I get tracking info for my order?You will receive a tracking email for your package shortly after it ships out. (Usually directly from DHL or DHL Express)
Notice
Our design is constantly improving, so the finished product may differ from the version in the videos and on the images.